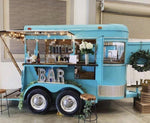 Last year my husband and I purchased a Lakota Horse Trailer. It was our dream trailer we  splurged but it was money well spent. However, I could not sell our Delta Trailer. All those memories trailing out our horses I could not part with selling it. So, I had my hubby tuck the trailer behind the barn by the chicken coop. Little did I know that old trailer was going to be my spring 2020 DIY project.
A few weeks ago, I came across a photo on Facebook of a converted horse trailer and got inspired. What an awesome idea converting your horse trailer into a bar! So, the adventure has started. Last week my husband and I started to sand and gut the trailer. We are having it painted teal in April and my handy dandy husband will start building the shelving early May. We hope to have it finished by June 2020. 
Converting our old trailer into a bar will be functional and convenient especially when we have our summer BBQ's.  We intend to move the "Cowgirl Trailer Bar" into our courtyard by the BBQl! I see many many photo ops and cheers coming our way! 
The posted photograph is our Trailer Bar Inspiration.  I hope you are inspired to recycle your old trailer into something functional! 
Don't Forget To Follow Us On Pinterest: https://www.pinterest.com/elusivecowgirl/cowgirl-diy/
Need Items To Decorate Your Cowgirl Bar Trailer? Check Out These Western accessories on our site:
https://elusivecowgirlboutique.com/collections/home-decor?page=1