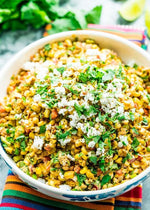 Corn is the ultimate side dish to all BBQ! I came across this recipe on Pinterest this  Summer and wanted to share. The only thing I added to the recipe is 1/2 Cup of Parmesan cheese. The saltiness of the cheese elevates the dish. The is a great salad to make the day before a BBQ. Making this salad ahead of time allows the ingredients to marry. I hope you enjoy this recipe! 
Interested in More Amazing Side Dishes?
Follow Us At  https://www.pinterest.com/elusivecowgirl/
This Mexican Street Corn Salad  is smoky, spicy, tangy and incredibly delicious. If you love the Mexican corn on the cob then you will love this version.
INGREDIENTS
4 cups corn (about 5 ears), cut from the cob (or 32oz of Frozen Corn)
1 tbsp olive oil
1/2 red bell pepper chopped
1/2 small red onion finely chopped
1/2 cup fresh cilantro chopped
6 green onions chopped
1 jalapeno pepper diced
1/2 avocado chopped
4 tbsp lime juice (from about 2 limes)
1/2 tsp ground cumin
1/2 tsp smoked paprika
1/4 tsp black pepper ground
1/4 tsp salt
2 tbsp sour cream (or yogurt)
2 tbsp mayonnaise
1/2 cup cotija cheese (or feta), crumbled
½ Cup of Parmesan Cheese
INSTRUCTIONS
Cut the corn off the cob. I used 5 ears to get about 4 cups. You can also use canned corn or frozen corn.
Heat the olive oil in a large skillet over high heat. Add the corn and stir it around. Cook for about 3 to 5 minutes or until the corn starts to char, which is why we're using high heat. If using frozen corn, you will need a couple minutes extra to get the right charred bits.
Transfer the corn to a large bowl and let it cool for a couple minutes.
To the same bowl, add the remaining ingredients. Stir everything together until well combined. Adjust lime juice and salt and pepper, as necessary.
To serve garnish with additional cheese and cilantro, if preferred.