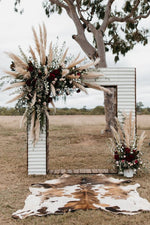 Its almost wedding season! Finding the perfect venue is always daunting. But how about creating a wedding arbor that can make a simple space feel special. With a little imagination and a little bit of elbow grease you can create a arbor that will captivate your gusts.  We found this wedding arbor on Pinterest. What we love about this arbor is its versatility.
Corrugated metal, scraps of wood, and a cowhide are all items found on the Ranch. Have your florist incorporate your wedding colors and flowers into your floral sprays. This will make your arbor uniquely yours. You can even paint the corrugated metal to match your scheme or go rustic and leave it rusty.
Placing this arbor anywhere on the Ranch will make your Wedding day memorable. Additionally, it can be used by your guests to take selfies and group pictures.
For more western wedding ideas follow us on Pinterest!
https://www.pinterest.com/elusivecowgirl/cowgirl-wedding-ideas/