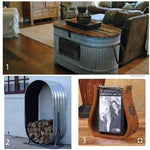 Western budget friendly home decor is the best decor! We love finding ideas that are cute and cheap. Sometimes just walking into your barn or horse arena is all you need to do to get your supplies to decorate. Here are 3 of our favorite western decorating ideas on a budget!
1) Galvanized Water Trough Table: Has your water trough seen better days? Give it a new life by adding a wood top (if you have old bar wood even better!) This side table has great storage for extra blankets and toys! 
2) Galvanized Water Trough Turned Wood Rack: What do you do with that old galvanized water trough with a rusty bottom? Cut the bottom out and stack your wood! Have you cowboy add side legs for stability. Not only is this functional to keep your wood dry its super cute!
3) Stirrup Picture Frame: This would be a cute gift idea for any age. As your kids grow keep there stirrups and turn them into picture frames.
Materials:
Meal rod or wooden dowel
2 Looseleaf Book Rings 
5-10 Clear Picture Frame Sleeves
These 3 home decor ideas can be made quick but have a dramatic effect. Not to mention they are cheap to make! Sometimes all it takes is a little bit imagination and a walk around the farm to find your next inspiring project! 
Looking for Cute Western Home Decor Items? Click Here